Coffee Makers
Details
Rancilio SIlvia Pro X

The new Rancilio Silvia Pro X version maintains the appearance of the Rancilio Silvia but has totally different characteristics. It is difficult to underline the functional differences between the two machines as the Rancilio Silvia Pro X is like a supercharged Silvia with performance, functional specifications and professional-level components. We highlight below the main features of the new Rancilio Silvia Pro X.

Feautures
Dual Boiler Technology. Two independent boilers, both equipped with a PID system. One boiler is dedicated to the preparation of coffee, the other to the delivery of hot water and steam.
PID. Electronic control over water temperature in coffee boiler and steam boiler, via internal PID offering extremely precise temperature stability.
Temperature Regulation. The temperature of water for coffee and steam can be adjusted easily via the display buttons.
Pressure Gauge. The professional pressure gauge indicates the pressure of the coffee boiler in real time.
Soft pre-infusion. By activating the soft pre-infusion function, water at reduced pressure from the coffee boiler is gently distributed to the coffee panel. This function, with adjustable duration from 0 to 6 seconds, allows the coffee panel to be prepared in the best possible way and promotes a smooth and efficient extraction, i.e. capable of preserving and enhancing the sensory characteristics of each type of blend or single-origin coffee.
Purge Function. The group is automatically rinsed when the filter holder is removed.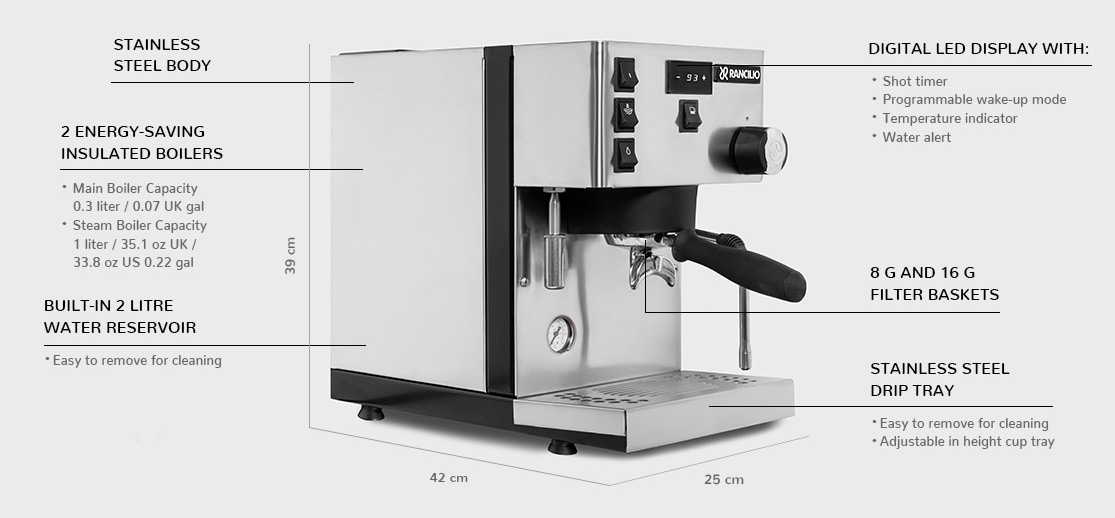 Equipment
High-quality professional equipment and heavy-duty components:
ergonomic portafilter,
insulated boilers,
multi-directional stainless steel steam wand,
steam knob,
cup tray
brass brewing unit.

Highlights
Rancilio technology in just 25 cm
Stainless steel body
Digital display with shot timer, temperature indicator, water alert
Power-on timer
8 g and 16 g filter baskets
Built-in 2-litre water reservoir, easy to remove for cleaning
Pods&Caps adaptor kit (optional)
Energy-saving insulated boilers
Stainless steel drip tray, easy to remove for cleaning
Adjustable in height cup tray, easy to remove for cleaning
Anfim Haus Self
Designed for small bars and domestic use, SELF offers traditional Italian espresso grinding and precise dosing, dispensing after dispensing. The grinder with grinding discs made of hardened steel manages up to 0.8 kg per day.
Equipment Features
Overload protection
Manual push button
Hopper slide
Technical Specification
Rancilio Silvia Pro X
| | |
| --- | --- |
| Dimensions (WxDxH) | 25 x 42 x 39 cm |
| Weight | 20 kg |
| Total Power | 950-1000 W |
| Voltage | 220-240 V |
| Frequency | 50- 60 Hz |
| Boiler Capacity | 0,3 L |
| Water Reservoir | 2 L |
| Noise Level during use | <70 db |
| Pods&Caps | Optional |
Anfim Haus Self
| | |
| --- | --- |
| Grinding disc diameter | 50 Ø mm |
| Grinding disc material | Hardened steel |
| Fase Voltage / Frequency / Phase | 220-240/50/1 |
| Watt | 100 |
| RPM | 1300 rpm |
| Grinding capacity | up to 0,8 kg/day |
| Grinding time for single Espresso | 7 Sec |
| Hopper capacity | 0,4 kg |
| Dimensions (w x h x d) | 150 x 385 x 300 mm |
| Net weight | 6 kg |
| Shipping weight | 7 kg |
Additional Information
| | |
| --- | --- |
| Model | Manual |
| Grinder Model | No |
Reviews
Be the first to review this product